Keynote Speakers

Keynote Speaker I-Prof. Hamid Reza Karimi
Politecnico di Milano, Italy | Full Professor
Hamid Reza Karimi (M'06–SM'09) received the B.Sc. (First Hons.) degree in power systems from the Sharif University of Technology, Tehran, Iran, in 1998, and the M.Sc. and Ph.D. (First Hons.) degrees in control systems engineering from the University of Tehran, Tehran, in 2001 and 2005, respectively. He is currently a professor of Applied Mechanics with the Department of Mechanical Engineering, Politecnico di Milano, Milan, Italy. His current research interests include control systems and mechatronics with applications to automotive control systems, vibration systems and wind energy.
Prof. Karimi is currently the Editor-in-Chief of the Journal of Cyber-Physical Systems, Editor-in-Chief of the Journal of Machines, Editor-in-Chief of the International Journal of Aerospace System Science and Engineering, Editor-in-Chief of the Journal of Designs, Section Editor-in-Chief of the Journal of Electronics, Section Editor-in-Chief of the Journal of Science Progress, Subject Editor for Journal of The Franklin Institute and a Technical Editor, Moderator for IEEE TechRxiv or Associate Editor for some international journals, for instance, the IEEE Transactions on Fuzzy Systems, the IEEE Transactions on Neural Networks and Learning Systems, the IEEE Transactions on Circuits and Systems-I: Regular Papers, the IEEE/ASME Transactions on Mechatronics, the IEEE Transactions on Systems, Man and Cybernetics: Systems, Information Sciences, IFAC-Mechatronics, International Journal of Robust and Nonlinear Control. He is a member of Agder Academy of Science and Letters and also a member of the IEEE Technical Committee on Systems with Uncertainty, the Committee on Industrial Cyber-Physical Systems, the IFAC Technical Committee on Mechatronic Systems, the Committee on Robust Control, and the Committee on Automotive Control. Prof. Karimi awarded as the 2016-2019 Web of Science Highly Cited Researcher in Engineering and received the 2020 IEEE Transactions on Circuits and Systems Guillemin-Cauer Best Paper Award.

Keynote Speaker II-Prof. Wenqiang Zhang
Fudan University, China | Full Professor

Dr. Wenqiang Zhang, Professor and doctoral supervisor of School of computer science,Fudan University. Vice President of AI & Intelligent Robot Institute of Fudan University, and Vice Director of Shanghai Key Laboratory of Intelligent Information.
He engaged in the research work of robotics, AI, and Intelligent Equipment, etc. He has published more than 100 papers and applied for more than 50 invention patents. He has undertaken more than 30 research projects from Science and Technology Commission of Shanghai Municipality (STCSM), National Natural Science Foundation of China (NSFC), Ministry of Education, Shanghai Electric Group, etc. He has created the China's first autonomous mental development robot, and successfully developed robots of Fuwa, Ato, Haibao, etc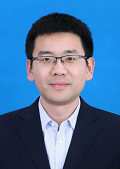 Keynote Speaker III-Prof. Xuechao Duan
Xidian University, China | Full Professor
Dr. Xuechao Duan received his B.E., M.E and PhD degrees in 2003, 2006, 2008, respectively, in Xidian University, Xi\'an, China. He was a visiting scholar in Department of Mechanical Engineering from Apr. 2013 to Apr. 2014, in the Ohio State University, Columbus, OH, USA.
Now he is a memeber of Key Labarotory of Electronic Structure Design, Ministry of Education, China.
He is also a Senior Member of Chinese Mechanical Engineering Society ,a member of the Institution of Engineering Technology and a member of the Chinese Institute of Electronics.
Research Interests
1. Parallel robots: redundantly actuated,flexure based-, and lower-mobility parallel manipulators.
2. Mechatronics: Novel actuating and measuring technology for advanced electronic equipments.